Mops are undoubtedly one of the most common cleaning tools now. You can come across a mop everywhere, from a house to an office. Whatever kind of surface, the mop is ready to clean it thoroughly.
Have you ever wondered,
"What makes the mop so commonplace?"
and
"What is the best type of mops?"
This article will provide the ultimate solution to your questions; but before answering, there is some basic knowledge you should learn about mops. Scroll down to find out!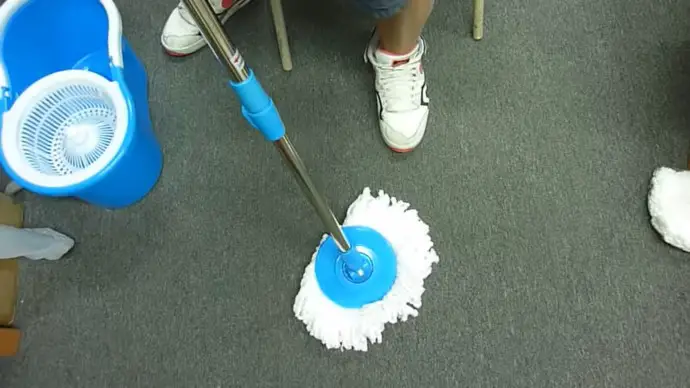 Three Types Of Mops
Wet Mop
Wet mops include four different types, namely cut-end mops, looped end mops, microfiber mops, and flat mops. Among these kinds, flat mops are the latest innovation.
Cut-end mops are the most common tools in households. There is nothing special about their components; however, they are an economical choice for light mopping small areas. Note that cut-end mops cannot be washed in washing machines.

In contrast to the cut-end mop, the loop-end mop head is the best option for heavy mopping, for example cleaning schools or offices. Their bigger size allows a person to cover larger cleaning areas than a cut-end mop does. On top of that, loop-end mops are more durable and machine washable.
The third type, microfiber mops are made of microfiber – a combination of polyamide and polyester. Rather than just pushing dust around, microfiber mops do a fantastic job out of picking up all the dust and dirt thanks to their electrostatic properties.

It doesn't stop there! Microfiber mops are lightweight and extremely user-friendly. With their smart design, you can clean hard-to-reach areas at ease.
Last but not least, we have flat mops. These mops cannot compare to the above types in terms of popularity, but they are very convenient with useful features. For instance, some flat mop heads have a built-in container to keep water and floor cleaner.
Dry Mop
A dry mop, also known as a dust mop, functions like a broom, which collects all the dust, hair and fine particles on the floor before wet mopping. By cleaning the floor with a dry mop first, you can avoid dragging and mixing the dust with water later.
Hot Mop
This kind of mop makes use of hot water to clean the surface. The mop comes equipped with a compartment to heat and steam water inside. The benefits of hot mopping include better cleaning results and faster drying.

The hot mop works on many surfaces such as bare floors, laminate, and hearths.
What Is A Spin Mop?
(My Favourite Spin Mop: O-Cedar EasyWring Microfiber Spin Mop)
To put it simply, a spin mop is a wet mop with a twist and a flat, circular head. The mop head, which is typically made of microfiber, can spin 360 degrees to clean better. It is absorbent, durable, and machine washable.

When buying the spin mop, you will get a bucket equipped with a dehydrator basket. By rinsing and spinning the mop head in the basket, you can wash a lot of dirt off and clean the surface again. Repeat the action and get a thoroughly clean floor!
Benefits Of Using A Spin Mop
Cleaning your home is a continual process that needs taking place on a daily basis. However, some conventional types of mop may discourage you from completing this chore. Using classic wet mop requires you to wash the mop head often, change the water and dry the mop.
Why don't you switch to a spin mop?
The spin mop allows you to clean your home with minimal efforts. There is no need to wring the mop head with your hands anymore. The mechanism in the handle will cover all the work for you when it comes to spinning and drying. Without dirty manual wringings, you can avoid physical injuries to your hand and waist also.

Spin mops are environmentally-friendly as they use less water than other mops. There are some kinds of spin mops featuring a separate tank for dirty water. The water you spin off the mop head will go into that compartment, while the rest stays clean. Therefore, you will save a lot of water for later uses.
Spin mops are available for both dry and wet cleaning purposes. The dehydrator basket provided can control the dryness and wetness of the head, thereby making the mop more flexible.
The angled mop-header design allows the spin mop to clean even the most hard-to-reach places in your home. These mops can clean a handful of different areas including floors, windows, glass doors, etc. Having a deeply cleaned house is no longer a dream when you own a spin mop.

Spin Mop Tutorial
Do not let its complicated design fool you! Spin mops are relatively simple to set up as long as you follow this step-by-step guide below.
Assembly
Typically, the handle comes in three parts. Simply screw each piece clockwise into the other until you have a complete handle. Try pulling the handle with your hands. You should not be able to remove it once the handle is attached correctly.

To assemble the mop head, push the upper disc and cloth disc together until a "click" sound is heard. Sometimes the head comes already attached. Afterward, put the head on the ground and push down the handle to install the head and the handle. Then you are good to go!
Use
The spin mop works exactly like other conventional mops when it comes to cleaning. There are only two notices for you as follow.
First, make sure not to use too much water when filling the basket. Excess water can lead to splashing and overflow when you wring out the mop head. Most buckets will have a line showing the adequate amount of water, so watch out for it.
When there is the recommended amount of water in the bucket, it will stay balanced when you carry the mop bucket around the house for cleaning. Otherwise, the bucket will tilt, and the water may spill on the floor.

Warning: never try to close the bucket before transporting because it will spill water when you reopen.
Second, secure your mop head firmly in place, hold the handle and use the pedal on the bucket to wring out the mop head. Your mop will dry at incredible speed! You can adjust the dry level of the head by holding as long as you want to spin it. Amazing, right?
Life Hacks With Spin Mops
How Fast Should You Spin It
The faster you spin the mop head in the dehydrator bucket, the drier it will be. Therefore, you should control the spinning speed to get the desired dry level for easier cleaning.
If you want to collect dust and absorb liquids, wash all the water out of the head to have an extremely dry mop. Meanwhile, keep the mop slightly wet to clean the floors effortlessly.

Many surfaces require different levels of dryness or wetness. For example, you will want the mop partly wet to clean tiles or grouts in the bathroom. On wooden floors, the mop head needs to be completely dry or almost bone dry.
Attention! Spinning too fast is not recommended for the durability of the mop.
When Should You Use The Spin Mop For Dry Cleaning
The mop head consists of incredibly absorbent microfiber strands. Dry cleaning with your spin mop will allow you to handle spills without messing them up.
The best way to deal with spills is to slowly absorb them into a dry mop head, then rinse the mop off and clean once again. Be careful not to spread out the spills too much while absorbing.
How To Change The Angle Of The Mop Head
When you are rinsing or agitating, make sure your mop is exactly vertical to have the best results. However, you need to change the position of the head while cleaning. One tip for you is to use the floor to save time.
To be more specific, step on the strands to keep it fixed in place and then freely change the angle of the head. I did not know about this trick at first, so I had to do it manually with my hands. It was not convenient at all.
Read more detailed tutorial here: https://floorcleaningtools.com/how-to-change-spin-mop-head/
Deep Cleaning Tips
Make sure to fan out all the strands while mopping. The quickest way to do so is to twist the mop counterclockwise. It takes a little practice, though, but once you get the hang, it will be a piece of cake.
Keep the mop plate flat on the surface
Have the handle at a 45-degree angle
Use extension parts to clean tall windows and get rid of cobwebs. The extension is available in any cleaning store, and you can get one or two part at home. It would be very convenient!
Spin Mop Maintenance
Always clean the mop head right after using to keep it in the best possible condition. If you leave the dust and dirt stuck in the head, it will be challenging to wash them off later.
What if the mop comes with a broken part? In this case, most manufacturers offer a warranty, and you need to see whether your situation is covered under the warranty or not. One advice is to check the warranty policies carefully before making a purchase.

If no warranty is offered, replacing the defective part with extra ones is another suggestion. Spare parts are usually available on Amazon or the manufacturer's website.
Microfiber is durable, but you cannot expect the mop to resist all the regular wear-and-tear. To prevent breaking the mop, make sure not to apply too much force on the mop while cleaning.
Last but not least, it is recommended to place the spin mop in cool and dry areas without direct exposure to sunshine. Do not put the tool near the fire, either. Due to the properties in microfiber, it is quite easy for the mop to catch fire.

How To Choose The Best Spin Mop
Before buying a spin mop, there are a few things to take into consideration.
(Best Spin Mop: O-Cedar EasyWring Microfiber Spin Mop)
Intended Cleaning Area:
This factor will affect your ultimate choice of spin mops. If you have a large kitchen or living room, a mop with a huge head will save you time and effort. Meanwhile, an average-sized mop head is an economical choice for small rooms.
Bucket Design:
You should look for maximum convenience in this factor. Some buckets come with a splash guard to prevent water from sloshing on your floors. Other have wheels to make transportation effortless and remove the need to lifting the bucket often. You can also go for a pour spout in buckets for easier dirty water dumping.
Whatever additional functions the bucket features, quality should be the number one priority.
Handle Build:
Most spin mop handles are made of stainless steel or aluminum. Between the two, stainless steel is more durable but heavier. You should consider carefully to make the best choice.
Ease of Use:
Do you want to struggle to use an advanced mop while cleaning your floor? Absolutely no. Therefore, go for a spin mop system with clear instructions and user-friendly controls.
Our Parting Thoughts
This article has included everything you need to know about mops in general and spin mops in particular, from assembly to maintenance. Do not hesitate anymore! Go ahead and opt for a suitable spin mop here.
Give this post a thumb up if you find it useful. Should you have any questions, leave it in the comment, and I will try to answer as soon as possible. Do not forget to subscribe for more posts! Thank you for reading.