OxiClean has developed a considerable reputation in removing tough stains and bringing a spotless appearance to your stuff. 
You might have used this brand's product for a while and witnessed its magical cleaning ability. Still, have you ever wondered what ingredients are in these products? How do they affect the cleaning ability of the detergent?
If you have ever asked these questions, let's follow my article below to discover OxiClean ingredients and how they work.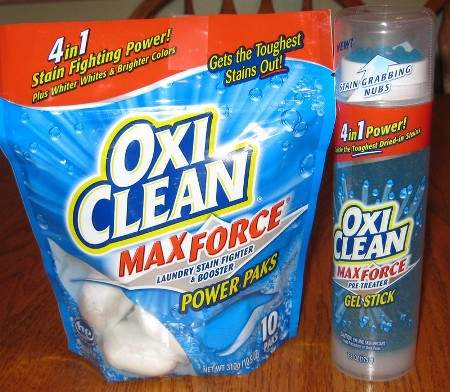 OxiClean Ingredients And How They Work 
Every detergent producer has their secret ingredients and formulas to produce their specific products. Now, it is time to discover the significant OxiClean ingredients and how they work.  
The Key Elements in Oxiclean and How They Work
Sodium Carbonate
Sodium carbonate (also known as washing soda, soda ash, or soda crystals) is produced either from plant ashes or common table salt. Its signature feature is to yield moderately alkaline water solutions, which helps to release the acids of stains from the fabrics. 
That is why a lot of detergent manufacturers add this ingredient to their products, such as glass cleaners, stain removers, countertop cleaners to treat hard water, and clear away grease, oil, and alcohol stains. 
Sodium Percarbonate 
Sodium percarbonate (also known as sodium carbonate peroxyhydrate or oxygen bleach) is a chemical substance made up of hydrogen peroxide and sodium carbonate.
This substance works extremely effectively in killing viruses, fungi, bacteria, and mildew because it helps to break down single-celled organisms, for example moss roots and algae structures, and prevent moss from reproducing.
Besides, it is much more environmentally-friendly than its alternatives –  chlorine bleaches since it breaks down into elements naturally occurring in nature.
Furthermore, it also helps to lengthen your clothes' lifespans as it hardly damages the clothes' materials and leaves almost no shades of white on the clothes surfaces. 
Surfactants 
Surfactants are long, two-headed molecules. One head is lipophilic or drawn to oil, and the other one is hydrophilic, or drawn to water.
This structure makes them work like oil in the water. This means they do not mix well unless you shake them vigorously in the container. After that, they will almost separate immediately. 
Due to this structure, they are able to break up stains and dirt, which normally do not dissolve in water, making them removed with the wash water. 
As a result, they help to make it much easier to remove oily stains and stubborn dirt. 
Here are some common types of surfactants listed on the detergent labels:
Alkyl sulfates (anionic)
Alkyl ethoxylate sulfates (anionic)
Ethers of fatty alcohol (non-ionic)
Polymers 
You might have heard a lot about this ingredient as it has been used in almost all walks of life.
Polymers are materials consisting of long, repeating chains of molecules. The term "polymer" is often used to describe the synthetic polymer, especially plastic. 
However, natural polymers also exist. You may have used the natural-polymer-containing products, such as erasers, natural rubber cushion, and so on. 
In the detergent industry, polymers are used to lift grease away from clothing and other fabrics. 
How Can You Use Oxiclean? 
If you are struggling to get rid of stubborn stains and clean your stuff, then Oxiclean can be your saver as they provide tons of solutions. 
Whatever stain types you might have on the stuff, such as pet pees, odors, or wine spills, Oxiclean will help you to treat all types of tough stains and bring back the beautiful appearances to your stuff.
Moreover, it can be used to deodorize laundry so that you can easily get rid of the pesky, lingering body odor hanging around on your favorite clothes when you go back home after the sport time. 
Additionally, it also aids you in dealing with the fungal growth on clothes since it is a powerful mold-and-mildew killer. As a consequence, you can avoid health issues related to this menace. 
Final Thoughts
After discovering the Oxiclean ingredients and how they work, you might know why OxiClean would be a quality and green-friendly cleaner for your tiled surfaces, carpets, and laundry.
Let's give this multiple-use product a try. I ensure that you will be delighted with the results it brings.
Lastly, thank you so much for your time. Do not forget to follow my blog because I will be back with more useful articles about the cleansing process.