Tom shoes or canvas shoes are well-known for their comfort and simple design. However, they are much more challenging than you imagine when it comes to washing the dirt away. Therefore, how to clean Toms shoes properly? 
Take it easy; we have all the answers you need in the article below. Let's scroll our article down for detailed instructions about cleaning your canvas shoes.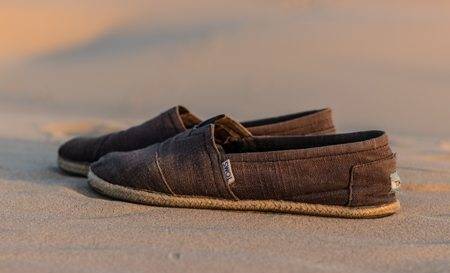 How To Clean Toms Shoes – A Detailed Guideline
Preparation
All the basic tools below are necessary for the beginning of your process. You will need to prepare:
A washing machine
A toothbrush ( a small brush in general )
A laundry detergent
Baking soda
Water
A bowl
All these elements, together with your dirty shoes, are enough for the cleaning process. 
In case you do not have some of the elements above, we highly recommend some alternatives. For example, let's use toothpaste tubes instead of baking soda since they are all quality bleach. Similarly, laundry detergent can be exchanged with dishwashing liquid.
Three Basic Steps In Cleansing Canvas Shoes
Step 1: Hand-washing
Here we show you a time-saving way in terms of hand-washing. Following this instruction, you will use your time wisely and maintain your Toms shoes' form.
Firstly, use your toothbrush ( or another small brush ) to remove all the dirt, hummus, and debris stick to your shoes before watering. In case there are color stains, you may apply laundry detergent. Though it is a quality bleach, we highly recommend that you should consider the detergent proportion since it may fade the color away.
Of course, you ought to test it out on an invisible area first. If the color fades, let's mix the detergent with a little water before applying to your shoes. In general, it is better to test out a few times before using it to clean.
In this part, we advise you not to use dishwashing liquid in place of laundry detergent because it is considered a much stronger bleach. It is easy to understand because dishwashing liquid treats sticky, stinky, and smelly grease stains as well as burned parts. And these things are harder to erase than color stain on clothes or canvas.
When it comes to cleaning soles, a mixture of baking soda and water is a go-to solution. You need to pour baking soda into a bowl, add an appropriate amount of warm water, and mix them into a paste.
Afterward, dig the brush into the mixture, and now you can begin to daub the paste to the soles of your shoes. You should sweep it gently and fully cover the poles before wiping it away.
Step 2: Washing Machine Job
In this step, you should choose the machine's lightest washing mode and add half of the detergent amount that is usually used. Then, you fill the washer with water until it is ¾ full. Put your shoes inside the cycle and wait. Once the process is done, take your shoes out and leave them air dry.
Step 3: Sundry And Deodorization
You may find a sunny area in your backyard, on your roof, or a porch to lay Toms shoes down and let them dry out. As such, your shoes will no longer be shriveled after being rinsed. Lastly, if you want some scent for your shoes, how about using shoe powder?
Here are some instructions for making shoe powder:
Prepare 240ml cornstarch, 120ml baking soda, and 120ml baking powder and put them inside a locked plastic bag.
Shake the bag to mix three elements well.
Pour 3 – 5 drops of your favorite odor into the mixture and shake it up. Make sure that you choose a fragrance that can both replace stench and be antibacterial. Some flavors we highly recommend are lavender, citronella, and lemon.
Sprinkle the mixture into Toms and leave it alone for 8 hours. Note that you need to spread the mixture so that it fully covers the soles.
After a long time, take a soft brush and gently scrape the soles and the powder left inside your canvas shoes.
Manual Method
The basic steps above need the help of a washing machine; however, if you don't want to use it, the manual method below may be a useful alternative for you to cope with your canvas shoes.
The beginning of this method is similar to the first step we have mentioned above. You will take a small brush to remove the dust remaining on your shoes. Then, let's start scraping from the soles to the top.
Afterward, you prepare a bowl of 240ml cold water, add a little mild laundry detergent into it and stir. Besides, you will take the small brush to sweep the liquid on the shoes. One hand puts inside, and the other scraps gently until there is no stain left on the canvas.
On top of that, this part can be done in another different way. Instead of preparing a water and detergent mixture, you can take a toothpaste  by rubbing an amount equal to one finger-joint alongside the soles. 
After that, let's pour a little water on the toothpaste and begin to scrape. There will be bubbles around; by then, you will see that toothpaste whitening your soles and removing all the hard stains left. Moreover, toothpaste's peppermint extract is an ideal smell remover, so you do not need to mix a shoe powder anymore.
The  next step is to use water to clean toothpaste and bubbles. Finally, it is time to dry your shoes. Please do not use a dryer as it will shrink the canvas and turn your shoes into a shriveled thing.
Conclusion
After skimming through this article, we believe you have found yourself an answer on how to clean toms shoes properly. We have provided you with the two most basic and common methods to maintain the beauty of your canvas shoes and save your time. 
Both these two ways are easy to apply and bring positive results. So it's all up to your choices, a machine or manual handling, which one is the most suitable for your timetable and lifestyle?
Read more: