Your favorite Nike sandals become dirty and smelly after days or months of using? What are you waiting for without starting cleaning them right off the bat? 
If you are seeking an ultimate guide on how to clean Nike sandals, we can help you out. Rest assured that you will surely find many quick and easy methods to freshen your sandals up after all. Now, let's move to the main part of this article.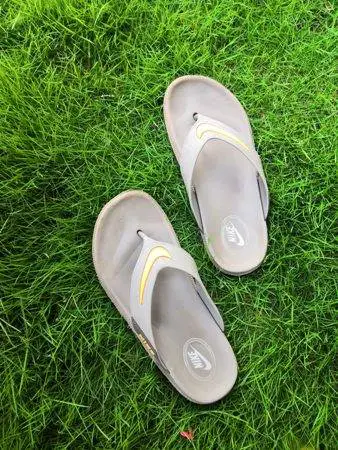 Solutions On How To Clean Nike Sandals
Treat Them With Baking Soda 
One of the most popular DIY ingredients used for almost all cleaning tasks must be baking soda!
For plain rubber sandals, you must soak them in warm water before sprinkling baking soda on them. After at least about five minutes, you can take an old toothbrush to scrub off the dust.  
If your sandals are still smelly, you can blend baking soda into a little of saltwater so that you can create the mixture. Then, let's apply it on your sandals before rinsing off with clean water.
Put Them In The Washing Machine
Using a washing machine must be the easiest way to clean if you have lots of sandals that need to wash off. What you need to do is to adjust the suitable setting, pour detergent in the machine and use cold water, then you can rinse off the dust without much of a hassle. To get rid of smelly sandals, adding a cup of vinegar into the washer is ideal. 
If your sandal is still grimy after washing, you can use the baking soda tips we have mentioned above to make them like new once more time. 
Use Sand Paper
It might sound weird to use sand paper when it comes to cleaning Nike sandals, right? But if your lovely items have some tough stain, fine-grit sandpaper can help you remove that stubbornness well.
Wash Them By Saddle Soap
Saddle soap is another great solution for you, especially in case your Nike sandals are made of leather. This soap works as a cleaner and also a leather softener.
First, you should remove excess dirt on your sandal with a cloth or a brush.  After that, all you need to do is to rub its surface with a damp cloth soaked in saddle soap. Simultaneously, leave it alone for a bit before wiping it off with a moistened cloth. Sounds easy, right?
Some Tips For You
Leaving a fabric softener sheet overnight on the sole will help your sandal smell fresh for the next day.
With a drop of essential oil from cedarwood and sandalwood onto your sandals for each day, you will have a nice scent on your feet.
Foot powder is also an excellent option to have your sandals clean all day long.
It will be best if you do not use the same sandals for every day. As your sandals must need some time to dry out, right?
Some Last Words
Aftering referring to our in-depth instruction below, you might now find your own way of how to clean Nike sandals, right? Of course, you can try all the above tips out to see if they satisfy you or not. Do not hesitate and get your sandals clean now! Good luck!