A leather belt is a must-have item in your wardrobe. It is helpful when things need to be held together and necessary for providing a fashionable outlook. 
Therefore, you may wear your leather belt regularly, so you need to give it frequent maintenance to keep it clean and durable for longer use. To know how to clean leather belt, let's read the instructions given below!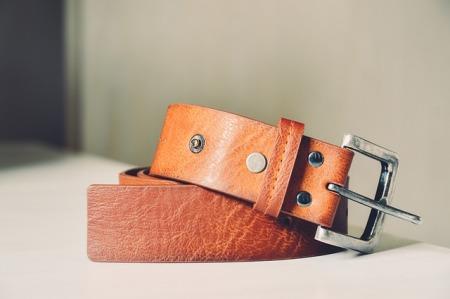 When Your Belt Needs Cleaning?
It is important that you could detect the signs showing that it's time your leather belt needs cleaning. Some common signs are:
When It Turns Tough
It would be best if you did not wait until your leather belt's fibers start to stiffen. Try to clean and moisturize it regularly to preserve its freshness and flexibility.
There Are Visible Stains
Stains can permanently harm a leather belt surface, so if you see one, try to remove it as soon as possible.
It Has Sweat Marks
After using it for a while, water and sweat stains can start to appear and give your belt an unpleasant outlook. Clearing them out at this time can be a little tricky. However, you could avoid it by doing regular cleaning.
It Stinks
Leather generally has a natural smell, and just like other leather furniture and things in your house such as sofas and bags, your belt can tend to be slightly smellier over time due to your body odor.
Please do not wait until it stinks! You need to deodorize it frequently, get a bad smell out of it beforehand to exude its style and power, not dirt and sweat.
How To Clean Leather Belt To Extend Its Longevity
Maintaining a leather belt cleanliness is not easy, although basic steps can be done using a damp cloth. 
To treat stains, you can employ some other little tips and tricks but bear in mind that they may damage the leather surface. Also, when your belt begins to develop a bad smell, some deodorizing tricks may help.
Do Routine Cleaning
It is important to give your leather belt standard maintenance after every time wearing it. This process helps remove any impurities or contaminants that may damage your belt's surface before it can settle into the leather, making them easier to be removed.
Step 1: Use the Damp Rag to Wipe Your Belt Down
Most of the time, you should start cleaning with a soft cloth. Dampen it with water and wipe down your belt, giving more strength to dirty areas. Or, if your belt is not too dirty, you can use a dry one instead. 
Step 2: Decide What Kind of Cleaner to Put on Your Belt
Your best option should be a cleaner that is specifically designed for leather. Saddle soap can also be a traditional choice, and it sounds good. However, we do not recommend it for more expensive brands.  
Related: What household products can you use to clean Leather?
Step 3: Add Cleaner to The Cloth
You can start the process with a very slightly damp rag. Add a bit of cleaner to it. If your cleaner or saddle soap is in a tub, rub the rag in the cleanser to create small bubbles.
Step 4: Apply the Cleaner to The Belt
Follow the grain, and remember not to rub too hard. Since you have rubbed it in, use another clean damp cloth to wipe out the excess.
Step 5: Leave it Dry
It is best to let your belt dry overnight so that it can absorb most of the cleaner or polish, helping it stay on your belt rather than transferring to your clothes or hands.
Remove Stains
Case 1: Treat Oil-based Stains
Cornstarch is recommended to treat fresh oil. You can first sprinkle the powder on the stain, then wait for it to absorb the oil. If the oil stain is old, rub the powder with your fingers since the heat from it can boost the removal process. Next, brush the powder off, or you can also use a dry cloth to clear out part of the oil first.
Case 2: Treat Water Stains 
If your belt gets wet in certain areas, you now want tips to deal with water stains. To solve this problem, water the whole leather belt and let it dry altogether.
Case 3: Treat Small Stains
For smaller stains like pen marks, using alcohol may be helpful. Use a cotton swab to apply it to your belt. When the stain is removed, dry the area using a blow dryer.
Case 4: Other Removable Stains
To treat other kinds of stains, mix equal amounts of tartar paste with lemon juice together. Next, apply the mixture to the stain then leave it for about 10 minutes before wiping the mixture away. 
Case 5: Set-in Stains
You will need a more aggressive measure for tough stains. Thoroughly washing your belt with water and soap may completely damage your belt; only use this method as a last resort. However, handwashing may mitigate the damage.
Deodorize A Belt
Way 1: Use Activated Charcoal
Add some charcoal to an air-tight bag and throw the belt inside. Seal it up, then leave it for several days. If it is still stinky, leave it for a longer time. Activated charcoal can be bought online or at pet stores.
Way 2: Use Cat Litter
Cat litter is a good option for absorbing bad smells. You can take advantage of it if it is easier to find than charcoal. Use it the same way as with charcoal to get rid of the odor. 
Way 3: Use Baking Soda
Another good choice for deodorizing is baking soda. Seal it in with your belt and leave all for a day or so. If you are worried about white residue, use the kind of baking soda that is specifically used to treat unpleasant smells for things like refrigerators.
FAQs
Can I Clean my Belt with Vinegar?
Yes, you can. A mixture of white vinegar and water can help you clear out stains and brighten up dull-looking leather belts. Apply the mixture to clean cloth, gently wipe the stain on the leather, and let it dry. You can test it first on a small area to make sure it will not discolor the leather.
Can I Machine Wash Leather?
No, you should not. If it is nylon or cotton, it can be washed in a washer. But we do not recommend you to use this method with leather since leather should only be wiped and spot-cleaned. Moreover, the metal buckles can damage your washer if not removed. 
In Conclusion
Leather belts are versatile accessories. They help create a stylish statement and are perfect for combining everything from a casual outfit to a more sophisticated ensemble. However, they need frequent maintenance to reach their longest longevity. If you are a belt lover, learn how to clean leather belt from the easy-to-follow tips mentioned above. Thank you for reading!