Used in clothing, handbags, footwear, and furniture, leather is a common material that is notorious for being extra picky when it comes to cleaning. However, as the saying goes, nothing is impossible, especially the leather material. What household products can you use to clean leather? 
Well, I will let you in on three household hacks that use inexpensive products to effectively remove even the most persistent stains on leather. Let us dive right into the cleaning! 
What Household Products Can You Use To Clean Leather?
Vinegar + Olive Oil 
Vinegar is one of the best household cleaning agents that you can choose to use on leather. However, using vinegar alone will dry out your leather, and easily lead to the unfortunate case of leather cracking. 
Of course we do not want that to happen! It is best if you combine vinegar and olive oil because the oil will help keep your leather soft. Your cleaning solution with vinegar and olive oil should follow a 1:2 ratio. Use a soft cloth to apply the mixture and let it work its magic for about 12 hours. 
If you are trying to clean patent leather, however, be sure to have another dry cloth to wipe it immediately afterward. You can easily find both vinegar and olive oil at the supermarket. Just a few steps and voila! Your leather will be polished neatly!
Read more: How to clean Leather Sofa with Baking Soda
Cream of Tartar + Lemon Juice 
This is one of the "tastiest" solutions to cleaning leather. You will need two main ingredients, including cream of tartar and lemon juice. Imagine that you are creating a paste for your sandwich. Whisk together one part of cream of tartar and one part of lemon juice. 
Make sure you stir the mixture well until it is thick. Scoop and apply the paste directly on top of the pesky stains on your leather. Let it settle for a few minutes before wiping it off with a damp cloth. 
However, this method requires a bit of trial and error. If the stain is still visible on your leather, repeat this method until you obtain the desired results.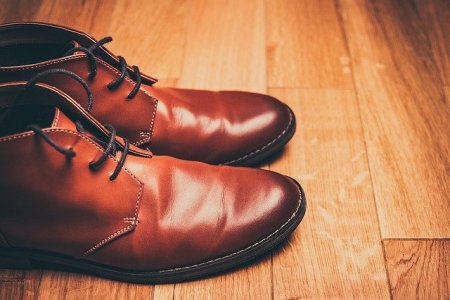 Soap + Water 
Using soap and water is a quick-and-easy way to clean leather. All you need is some mild baby or dish soap and warm distilled water. In a bowl, you can mix them before dipping a soft cloth into the mixture to clean the leather. 
Before this, you should consider massaging essential oils onto the leather with a microfiber sponge. This will serve as a conditioner to prevent your leather from drying out. After wiping off the leather with the soap and water solution, simply let it air dry. With this method, a visit to the market is not even necessary! 
Conclusion
Now, if anyone ever asks, "What household products can you use to clean leather?" You will have no problem answering. Yes! Cleaning leather is no longer difficult!
Hopefully, this succinct guide helped you find appropriate household products for leather cleaning. Do try these methods and leave a comment on your cleaning experience. Any other relevant hacks or tips are always warmly welcomed!
Related Post: