Have you ever been bothered by the gasoline odor? After filling fuel at the station or painting the fence, you could find the gas smell in your hands and clothing. 
Did you rinse your hands with water, but the situation didn't change? Or washing your clothes with a lot of regular laundry detergents, but it didn't seem to be better? 
If those are your cases, you're in the right place! Here and now, I will show you some easy tips to get rid of gas smell from hands and clothes. I'm sure these tips would be the most effective solutions you could find on the Internet.  
Don't hesitate to swift down and find out how we can get gas out of our hands and clothing! There are some brand new tips that would blow your mind right away. Are you ready?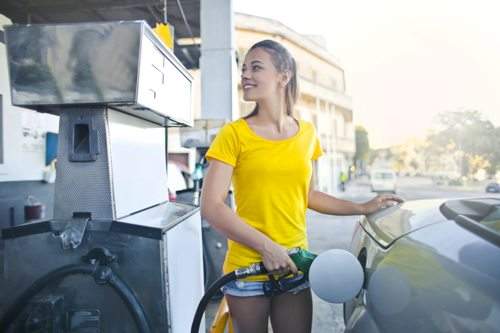 Can Gasoline Smell Affect You?
We all know the gasoline smell is one of the most bothersome scents in daily life. Many experts advise us to stay away from gas odor because it is dangerous to our health.
There are a lot of toxic chemicals in the gasoline odor, which will especially become a dangerous affection when you inhale it. Whenever you smell the gas smell on your skin or outfits, it may still be there. 
Hence, if you don't want to experience some phenomena such as irritation, burn, inflammation, peeling, and temporary blindness, you need to get rid of the gas smell from your skin and clothes.
Below are my tips to help you guys to remove the gas smell from hands and outfits effortlessly from regular items in your home.
Here we go!
Easy Tips To Get Rid Of Gas Smell From Hands and Clothes
Solutions to remove the gas smell from hands and clothes are distinct somehow. It's all easy to do at home without professional attempts. 
How to Remove Gas Smell from Hands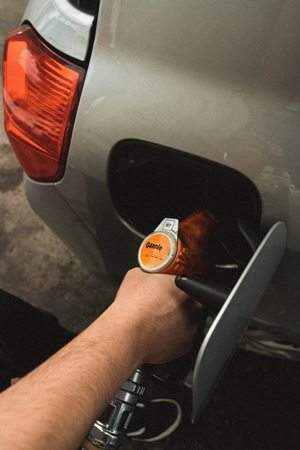 Removing gas odors from your hands and skin is the first thing you notice there is a gas smell on your skin. Don't hesitate to try my solutions below. 
Using Vinegar Wine
If you usually search for household tips and tricks, you may know the various uses of vinegar wine. Housewife usually uses vinegar wine as an effective remover for stains.
In Asian countries, they also use it as a solution for getting rid of the unpleasant smell in food preparation. Admittedly, natural acid in vinegar is one of the best chemicals that could easily remove the smelliness of the gasoline odor.
With only vinegar wine, you can eliminate the smelly gas smell out of your hands. Using a small amount of vinegar is enough for washing both hands.
First, pour about 100 milliliters vinegar into a bowl. Secondly, you're going to soak your hands for about three minutes and rub it well in that liquid. Then, continually leave your hands in vinegar wine one minute.
The last thing you need to do is wash your hand in the water gently. Remember to check your hands out if the gas smell is still there. For long-term contact with gasoline, you need to soak your hands with vinegar wine for twice or more if needed.
You can use fragrance hand soap to create a pleasant odor on your hands. Don't worry! It's just an optional step because the vinegar has removed the gas smell before.
If you don't own vinegar wine in your house, let's jump to the next tip.
Scrubbing with Lemon Juice
As I said, acid is one of the best chemicals that could remove an unpleasant smell. Do you remember that lemon is full of acid? 
That's true! Lemon will play the central role of this tip. I'm sure that you will have lemons in your fridge. So, let's get started!
Squeeze the lemon until you have a half cup of lemon juice. It would take you about one and a half of lemon. Then, mix lemon juice with an amount of water with the proportion as 1:1.
Next, let's soak your hands in that mixture for three minutes and rub it gently. After that, leave your hands in the compound for one minute and rinse it. 
It's the same step as using vinegar wine. You can swift up to read more about this. If you want to try a fragrant solution, let's jump to the next tip: vanilla extract.
Vanilla Extract will Surprise You.
No one thinks that the vanilla extract will be the solution for getting rid of the gasoline smell. But it does! Vanilla extract also brings a soft scent that makes us comfortable.
You need to prepare a half cup of water. Then, drop the vanilla extract as many as you want. The more liquor you drop, the more fragrant your hands will be.
Rub your hands gently with the vanilla mixture for a while. After rubbing, you only need to rinse your hand with water. It's how the gasoline smell in your hands disappears.
Apply Baking Soda
You need to mix three parts of water and one part of baking soda to create an effective remover, which could get rid of the unpleasant smell of gasoline from your hands. Like the three tips above, you have to soak your hands in that liquid for a few minutes. After that, rub your hands well in the baking soda mixture. 
The last thing to do is re-soaking and rinse with water. 
How to Remove Gas Smell From Clothes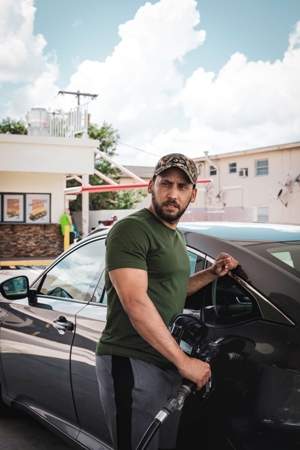 It's laundry time! This process may take you half an hour. Don't worry – I will support you with some handy tips. Here's how to get rid of the gas smell from your clothing.
Step 1: Remove Excess Gasoline.
Using an oil absorbent paper (you can use tissues or towels) to absorb the leftover fuel on your clothes. You have to press the tissue on the stained gasoline point several times to force it out of your clothing.
Also, you can apply raw baking soda on the stained fuel and leave it for about ten minutes to eliminate the remaining gasoline. 
After removing excess gasoline, the following steps will be much easier for you. Let's jump to step 2!
Step 2: Soak Your Clothes.
Like solutions for hands, you can get rid of the gas smell from your clothes with vinegar wine, and also baking soda. 
First, you have to mix vinegar wine (or baking soda) and hot water with the proportion 1:1. Make sure that it's enough to dip your clothes without excessive. Remember to leave it soaking half an hour or more to let the vinegar remove the remaining gasoline without making clothes break down. 
If you still smell the gasoline odor, you should leave it immersing for an extra thirty-minute.
Step 3: Wash The Clothes Separately.
Because of gas inflammation, you should separate the gasoline stained clothing and regular ones to avoid them not affecting each other.  
You have to wash it in the washing machine on the hottest mode or by hand with hot water to make gasoline out of your clothes quickly.
Remember to use odorless detergent to avoid some chemical reactions happening between detergent and gasoline. It's a must for those with chemical sensitiveness.
Step 4: Air-dry The Clothes
If it's possible, air-dry your clothes for a full day outdoors. This action will avoid the prospect of inflammation. Hang up your clothes broadly to make it dry faster and remove the excess gas smell in your clothes.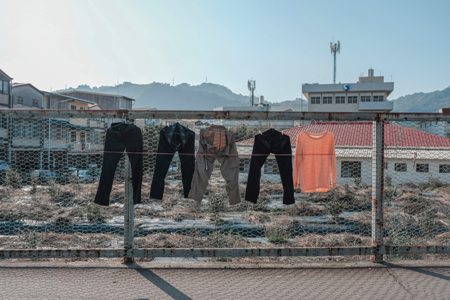 With shoes, you could do the same. This process could take you a day or more, depending on the weather.
Conclusion
I've shown you some easy tips on how to get rid of gas smell from hands and clothes. Trust me! It's effortless to try these tips to remove the gasoline odor and avoid dangerous affection for our health. 
With some essential materials, you can reject that unpleasant smell economically and effectively. If you have any questions, let me know. I'm willing to resolve every problem of yours. I hope my solutions will support you in your daily life.