Dry cleaning is an effective washing method that is quite similar to regular wet cleaning, as we all know. This technique is good for fabrics that are perishable in water (as it completely eliminates the role of water) or those that are difficult to dry off after being put in the washing machine. 
So, is dry cleaning really clean?
Below are our carefully analyzed concepts, coming with the pros and cons to help you better understand this laundry technique before deciding to change the method.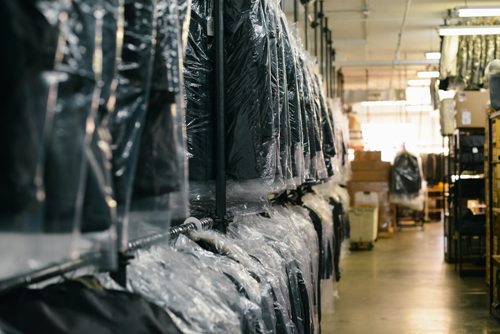 So What Is Dry Cleaning?
As its name suggests, dry cleaning is a cleaning process that uses a special solvent instead of plain water. 
When it comes to the normal washing method, we often use water mixed with laundry detergent to remove dirt and odors from our clothes. But with this new technique, we use a special kind of chemical that is capable of dissolving other substances, commonly known as the perchloroethylene solvent. 
However, that was the story of the old days when chemical technology was not yet developed. Nowadays, people often use silicone-based solvents and organic solvents for replacement.
How Does It Work?
Let's say you go to a laundry and ask them to dry-clean your clothes. They will first evaluate them to determine if the method is indeed necessary. Then comes the simple process: instead of water for washing, they will use solvents like perchloroethylene to deal with sensitive fabrics or have complex designs attached on like beads, feathers, or tassels.
However, one key to keep in mind is that you need to distinguish what kind of clothes is suitable for dry cleaning and what isn't. For example, the dress shirt must not be dry cleaned but washed in a normal way with soap and water, just like how you do it at home.
During the drying process, solvents and detergents will clean clothes from grease, dirt, and odors, making them look clean as new again.
On the other hand, washing with water, and along with the harsh process of washing machines may cause delicate materials such as silk or wool to shrink and fade their color.
Therefore, dry cleaning of your sensitive fabrics should be a must. And it is also really useful for delicate clothes that water cannot handle.
Is Dry Cleaning Really Clean?
Here comes the most important answer to the whole article, that is dry cleaning really working?
First and foremost, dry cleaning is for certain not the most accurate technique. That depends on the type of fabric you process. As mentioned above, the dress shirt is definitely on the blacklist that cannot be dry-washed under any circumstances. But materials broken down in the water like silk or wool, on the other hand, are quite possible.
So dry cleaning will undoubtedly be a great option if you exactly know what kind of clothes you're washing. 
What Are The Downsides Of Dry Cleaning?
Of course, not all methods are completely preeminent, and dry cleaning is no exception. It doesn't really deal with the odor of clothes caused by sweat. So if you need to wash your clothes for deodorizing, using the regular washing method is probably the better option.
Moreover, if you use perc solvent for laundry, you should be noted that this solvent contains ingredients that cause cancer to humans, and some others may also contribute to pollute the surrounding air.
The most obvious alternative is to wash your own clothes at home by hand. The second way is to use a deodorant after steam cleaning. But deodorants are also pretty toxic, so make sure you're not allergic to them. 
Conclusion
There you have it, folks! The above is a summary of all our analyzes and tips for you to help you answer the question: Is dry cleaning really clean?
If you are a busy person, we recommend choosing dry cleaners that use organic solvents or silicones in place of perc to avoid long term damage to your body.
You also need to streamline your clothes so that most of the washing time will only be in normal wet washing, and rarely do you have a garment that really needs dry cleaning. 
Moreover, fabrics that need dry cleaning will not be so ventilated and sweaty, especially those woven with hard leather. It's best to wear clean fabrics like cotton or natural fabrics to make your life much more comfortable and hassle-free.
Read more: How Long Does Dry Cleaning Take