Using baking soda is one of the best ways to get rid of bad smells or hard stains. However, not everyone will have these beneficial ingredients available in their houses. Moreover, some people have also reported that baking soda can negatively affect their skin if they do not use gears. So, how to clean urine from mattress without baking soda?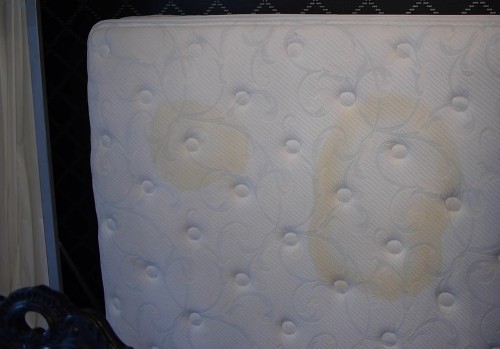 In this article, we will list and guide you on using some of the best household ingredients that you might already have in your house to remove pee and its smell. Let's get started now!
How to Clean Urine From Mattress without Baking Soda – Best Ingredients and Products
Dish Soap or Dishwashing Liquid
With minor and new urine stains, dish soap (or dishwashing liquid) will work pretty well. Dish soap is gentle, and it will not harm or affect the quality of the fabric, so you can be confident while using it. However, this method is not a strong one, so if the pee stains have been on your mattress for too long, or if they are too smelly, you should check other ingredients listed later on. 
The process of using dishwashing soap on pee stains is quite simple. First, you can mix the liquid with a little bit of water and apply it on your mattress. Scrub the urine stains carefully to get rid of the stains, then leave the solution there for around one hour if you want to. 
Paste Made from Lemon/Lime Juice and Salt
Here are another two available ingredients in most houses. This method can work pretty well as lemon and lime all have a pleasant smell, and they can neutralize the urine's smell easily. Moreover, the salt in this paste will help you scrub the stains to come off easier. The process of using this method is quite simple.
Step 1: Make the Paste
Squeeze a few lemon or lime juice in a small bowl, then add enough salt to form a paste (not solution). Mix them carefully. Depending on how big or small the urinated areas are, you will need a certain amount of lime/lemon and salt. 
Step 2: Apply the Paste on Urinated Areas
When the paste is ready, apply it on the pee stains and scrub it for a while. Next, leave the paste on the mattress for around an hour or more if you need to. 
Step 3: Cleaning off the Paste
After around an hour, you can go back and clean the paste off your mattress with a cloth. In most cases, the pee stains and the smell will disappear. However, if the result is not as good as you expected, you can choose other stronger methods, like using bleach or paying for a professional cleaning service. 
White Vinegar
Vinegar is one of the most easy-to-find kitchen ingredients as most of us like to mix it with our food. This ingredient will be so effective when it comes to removing odors, stains, and in this case – pee. Unlike baking soda, vinegar is more gentle for your skin as it does not cause any irritations most of the time. But before you apply vinegar to your mattress, you need to notice some crucial points. 
First, only choose white vinegar or the ones that do not have a harsh smell or color. White vinegar is the best choice as it's cheap and has no color. Moreover, you can mix vinegar with some water if you do not want to deal with too much acidic smell from this ingredient later on. Here is the step-by-step guide for using vinegar on your mattress. 
Step 1: Pour a Reasonable Amount of Vinegar on A Spraying Bottle
The best way to use vinegar is to pour it on a spraying bottle. This type of bottle will help you control the amount of vinegar you need to use on the pee. Moreover, it can help you save vinegar as you can spray in specific areas, not the whole mattress. 
Step 2: Spray the Areas That Urine Presents on And Wipe Them
Spray vinegar on the urine stains until they are thoroughly soaked in vinegar. When you see the urine stains come off, use a tissue or a cloth to wipe them off, then add more vinegar if you need to. 
In case the urine stains are so significant, you can leave the vinegar there until it is dry. If the stains are too hard to get rid of, you can check more methods in this list.
Wet-Dry Vacuum
As you see in the methods mentioned above, most of the time, we will need a towel to clean off the stains while we are cleaning or scrubbing the urinated areas on our mattress. However, this method might make it more inconvenient for you as you might have to spend a long time washing the towel with pee on or throw the towel away. Such a waste! 
But if you have a wet-dry vacuum, great, you will be able to solve the urine problem with it. A wet-dry vacuum will help you remove the pee faster and more effortlessly, especially when you already use a paste before. 
Odor-Removing Products
When the pee smell is too harsh, especially when you have a pet's pee, you can choose commercial products to remove the bad smell. Before picking a product, it is essential to check if the product will work well with your mattress material. Besides, you should follow the instruction on the label to guarantee the best results.
Bleach
Bleach is strong and can deal with urine stains pretty well. However, it would help if you kept in mind that this product can affect your mattress's color and quality. So, do not choose this method if you care about the mattress's color or look. 
In case the mattress is thick and has color, then bleach will be the right choice. We suggest you try other natural ingredients first (like vinegar, lemon, salt, e.c.t.) before choosing this cleaning product. 
You should mix it with water and apply it on the urinated areas to use bleach on your mattress. You can also wash the whole mattress with water and bleach solution if the pee stains are too significant. 
Professional Cleaning Service
In case you find it is too hard to remove both urine stains and their unpleasant smell, you can pay for a professional cleaning service. Of course, the fee will be higher, but the result will be guaranteed.
More Tips for a Clean Mattress
Deal with Pet Urine
When human urine contains 95% of water, our pet's urine is much more concentrated. You can effortlessly notice that pet pee's smell is always more unpleasant and harsh if you have pets. Moreover, even dominated animals like dogs and cats still have their wild instinct, using pee as a territory mark. This means they will go back and pee on your bed again if they still smell their pee there. 
To get rid of the pet urine smell completely, you should go through many steps, as we mentioned above. It is also advisable that you try enzyme cleaner to remove the smell. Besides, you can also apply pet repellent with a pleasant smell for you, such as essential oil.
Protect the Mattress from Pee 
If you have a baby, and it is impossible to step your baby to pee on the mattress, you can protect the mattress by having the kid wear a diaper. You can also put a plastic wrap, plastic layer, or cover to protect the mattress from absorbing pee in the future. 
Last Opinion
Pee smells on the mattress are not easy to get rid of, but everything will be much easier to deal with if you have the right ingredients and products. 
After providing you the most easy-to-find ingredients and products in this blog, we hope you already know how to clean urine from mattress without baking soda. In case the pee stains are too significant to deal with using household ingredients, we advise you to consider a professional cleaning service.
Read more: Is Baking Soda for Cleaning and Cooking the Same? – Ways to Use Baking Soda to Cook or Clean