Without proper cleaning and maintenance, mildew and mold can damage your awnings. Have you ever put a bunch of cleaner on your awning to make it look new again? You have no idea how to clean mildew from canvas awnings completely? 
We will show you the way to do it effectively in only three steps!
How to Clean Mildew From Canvas Awnings?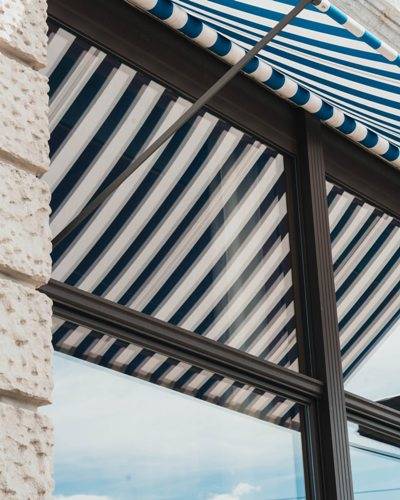 Step 1: Prepare for Mildew Cleaning
Canvas awnings are large and usually framed high, so you will need a full set of tools to clean them. You should note down and prepare the following equipments:
A strong ladder
A broom or a sweeper
Some plastic cover
A long hose
Some clean cloths or rags
Some brushes
Some cleaning solution or soap liquid
We will start with the small awnings. You should remove smaller awnings from their arms and frames to clean them on the ground. You can apply some soap on them or soak them in soap-mixed water before washing them.
Now, scrub all dirt and mildew away. Don't forget to lay the awnings on flat ground while cleaning. You don't need any wrinkles on your awnings!
It would take you forever to move the large awnings and put them back after every cleaning. Leaving all big and heavy awnings in their places is a good idea in this case, and then don't forget to set up a ladder to reach them.
The ideal ladder is the one with a platform on its top, which helps to hold your clean equipment. A cherry picker or any lift devices will work perfectly as well.
If you don't want to splash dirty water onto nearby items, you should protect them with some plastic cover. Small items such as decorations and small plants could be moved indoors on the cleaning day.
On the other side, moving large items like carpets and furniture is a hard task for you. Hence, you should wrap them all carefully with some plastic sheets.
Don't wet your awning with all dirt and mildew on it. We need a broom to clean off dirt, leaves, sticks, and anything you can see on the awning. Leaving them on your awning could lead to terrible damage in the future.
Step 2: Clean Your Awnings
Mildew is a kind of fungus, and it looks like a powder. You can identify mildew on canvas as a gray or white spot.
Now, you should use a hose to spray all over the awning. The cleaner will work better if we wet the fabric before applying it. Make sure that you don't miss any spot on the awning.
Depending on the size of the awning and the number of awnings that you desire to clean, you can double or reduce the amount of clean. Here is our 3-ingredients cleaner recipe:
1 cup of bleach
¼ cup of liquid soap
4 liters of water
You should choose bleach carefully for the reason that bleach could cause discoloration on your fabric. One tip for you is avoiding chlorine bleach and using a color-safe bleach. 
Testing your bleach before using a large amount of cleaner is also advisable. You should find a small spot on the downside of the awning and apply the bleach to check if it discolors your awning or not.
There is no signal of discoloration! Congratulations, you just succeeded in making your cleaning solution.
You could dip the cloth or rug in it and apply on the awning. You should make sure that you put cleaner on every inch of the awning.
Letting the cleaner soak into the fabric for about 20 minutes will help kill the mildew on it quickly.
You will need a brush to scrub the top side of the awning. It would help if you cleaned in a vigorous circular motion to remove mildew attached to the fabric.
If some awning areas are dry, you must re-apply cleaner and water to make them wet before scrubbing.
We now can hose down the awning. Rinsing off all the cleaner is essential since the left-over soap will discolor the awning.
Step 3: Dry and Re-frame The Awnings
Now, it's time for your awnings to be dry naturally. You should hang small awnings on a line and let large awnings dry on their frames. 
No need to use a dryer because canvas is a quick-dry fabric, and a dryer could make canvas shrink.
A water- and stain-resistant coat would help protect canvas awnings better. The original skin on the awning could be washed away due to the scrubbing process or whether.
You should purchase a good fabric guard to spray on the awnings when they are dry and clean. This coat will enhance your hard-work of cleaning the canvas awning.
Don't forget your small awnings! After letting them air-dry completely, you can put them back in their frames.
3 Tips to Prevent Canvas Awnings From Mildew 
#1. Monthly Hosing-Down
Once-in-a-while cleaning is very tough; however, monthly cleaning is just like a piece of cake. You only need a ladder and a garden hose to do this.
You can go ahead and use the hose to drench the canvas awnings. Removing twigs, leaves, dirt, and debris ensures that no mildew could grow on your awning.
#2. Annual Maintenance
We should have canvas awning clean every year as an annual maintenance. The process of yearly cleaning is the same as the 3-steps process we show you.
#3. Proper Storage
You can extend your awning's useful life by storing it properly. If you only use canvas awnings in some seasons, you should clean them before putting them in the storage.
The condition of the warehouse or storage for the awning is very important. A clean, dry, and well-ventilated area is the most suitable since it prevents mildew from settling.
In Short
We go through our three easy steps on how to clean mildew from canvas awnings. With some simple tools and equipment and store them in the best condition, you can have mildew-free and long-lasting canvas awnings. 
Thank you for your time!
Related Post: