Each type of shoe has a different cleaning method to keep the shoes more durable, and we do not have to spend a fortune to buy a new pair every time. You are wondering can you dry clean shoes at home? We have some tips for drying clean shoes, which are applicable to almost all types of shoes.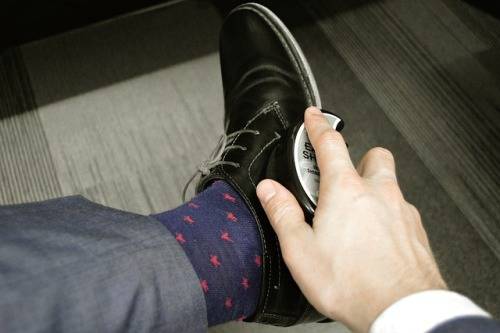 Can You Dry Clean Shoes at Home? 
You can dry clean shoes at home to save money and time taking them to the laundry. Moreover, you will easily search for information on the internet on how to dry clean shoes properly. 
With simple items that you have at home or can easily find in department stores, cleaning shoes at home is possible; everyone can do it. 
The shoes are an indispensable item in a day-to-day outfit. They not only protect our feet against external factors such as rocks, sands, dust, thorns, etc., but also blow a new wind of fashion into our appearance. With the right maintenance methods, you can increase the life of the shoes and thus, use them for longer. Let's dry clean your shoes at home!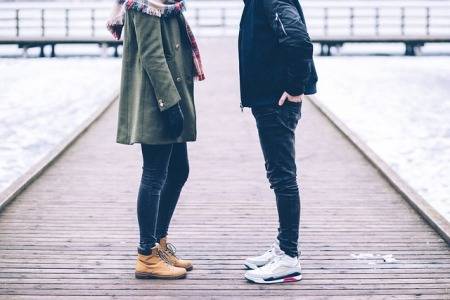 How to Dry Clean Shoes Properly 
How to keep our shoes looking good and lasting longer? At home, we can follow some easy steps that are suitable for almost all types of shoes. 
But note that these steps we're about to show you are not guaranteed to work well with some materials like leather, suede, sheepskin, etc, as these have specific cleaning processes. Here are the common ways to clean shoes made of all types of materials. 
Step 1
The first step is to prepare the necessary equipment: 
Soft-bristled brush or shoe brush or an old toothbrush (it depends on what type of shoes you have) 
Some dishwashing detergent (if needed)
Paper towels or dry towels, soft cloth
A bowl of warm water
Step 2
Use a dry paper towel to wipe the surface of the shoe. If your shoes are suede, nubuck, or sheepskin, you should use the soft-bristled brush instead. 
Then, mix a small dishwashing detergent and a sufficient amount of warm water in a small cup to create foam. Wet the toothbrush in the solution and work it on each small section gently to protect footwear. 
Step 3
Apply an amount of warm water into soft cloth to eliminate any excess detergent and clean the affected area.
After the detergent has been removed, use another dry cloth to wipe the shoes, and soak up any remaining water. 
Step 4
Last step, air dry the shoes at room temperature, avoid over-temperature places.
In suede, nubuck, and sheepskin shoes, it is not advisable to let them get wet, so using detergent is unnecessary. You should keep their surface as dry as possible by using a soft-bristled brush for general cleaning on a day-to-day basis.
Tips for Cleaning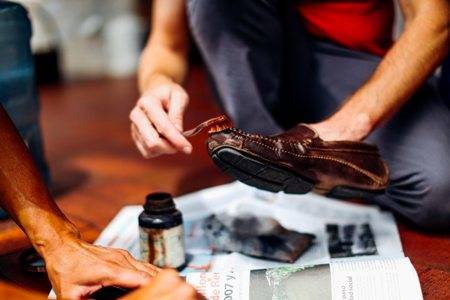 Before starting cleaning shoes, remove dirt from both the outside and inside of the shoes with a soft-bristled brush or dry towel. 
Then use a dry paper towel to wipe down the leather or canvas shoes as well as the fabric of sneakers and remove the loose surface soil. You should use the soft-bristled brush to clean suede shoes's surface.
Cover your furniture with newspapers to avoid shoe polishes and cleaners damaging or contaminating them.
Before drying clean shoes, you need to remove the laces and wash them in the laundry for the best convenient washing.
To get rid of the shoe's odor after it's dry, you can sprinkle inside the shoe with a little baking soda. Leave your shoes out overnight before shaking them out the next morning. Hence, you utilize cloth or a tissue to remove the leftover residue.
Conclusion 
You can dry clean shoes at home if you know the right method. Cleaning your shoes is also a way of showing self-esteem in being conscious of protecting your feet and appearance. 
Also, don't forget to identify the right cleaning products to ensure the cleaning efficiency and protect your health from toxic chemicals.
After reading this post thoroughly, we hope you now know how to take care of your dear pairs of shoes properly. Goodbye for now and have fun cleaning!